Nancy Halpern Ibrahim, MPH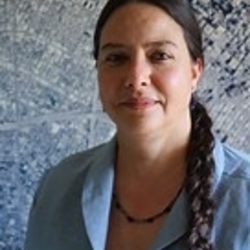 Executive Director, Esperanza Community Housing
Nancy Halpern Ibrahim has been with Esperanza Community Housing for more than 20 years, and has served as Executive Director since 2006. Nancy was recruited in 1995 based on her experience developing community health leadership hand-in-hand with women in Palestine, and later, after earning her Master of Public Health from UCLA, with the deaf community in Damascus, Syria. Cognizant of the similarities between South Los Angeles and life under occupation, she joined Esperanza's staff as inaugural Director of Health Programs. She developed the model community health leadership program, Promotores de Salud, which led to the first class of Esperanza's Community Health Promoters graduating from the program in 1996.  To date this program has graduated 533 bilingual women and men.  
As Director of Health Programs, she established the framework for the programs at the intersection of health and housing that characterize much of Esperanza's work. Her efforts have been central to pioneering environmental health strategies in the region, and to advancing the reputation of Mercado La Paloma, Esperanza's economic development venue, as a cultural and culinary hub. 
As Executive Director, Nancy is committed to principles of responsible, inclusive development without displacement, racial equity, and the stabilization of communities strongly rooted in health and human rights.    She leads a staff of 31, addressing five major program areas:  Affordable Housing, Primary Prevention and Health, Environmental Justice, Economic Development, and Art and Culture. 
Esperanza Community Housing Corporation is a social justice non-profit in South Central Los Angeles that achieves long-term, comprehensive community development.  We recognize that Indigenous, Black, and Latino immigrant communities are disproportionately impacted by historical oppression, health disparities, disinvestment, and displacement.  Therefore, we develop and preserve affordable housing; elevate health equity and access to care; mobilize for environmental justice; create and protect local economic opportunities; expand engagement in arts and culture; and advocate for policies protecting human rights.  Esperanza works collaboratively to strengthen South Los Angeles.  In all of our actions, Esperanza builds hope with the community.