IEDL 2019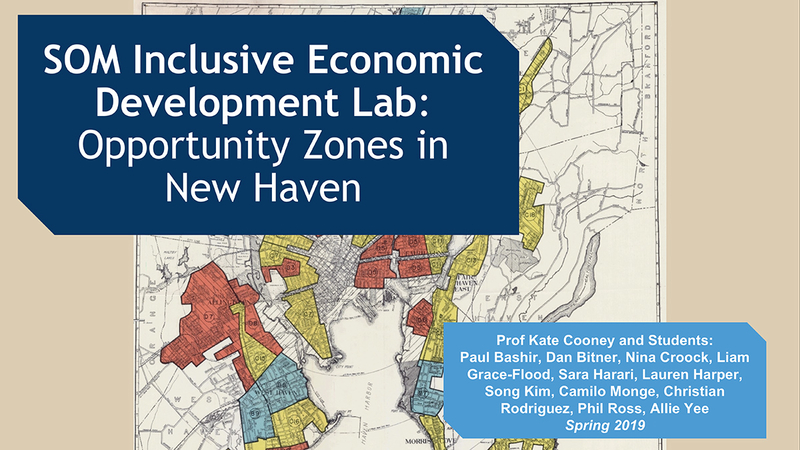 Opportunity Zones In New Haven Lab Project
In Partnership with Tsai CITY, the Center for Innovative Thinking at Yale, the 2019 IEDL created a project with key members of the New Haven City government: Aicha Woods, Executive Director City Plan, Arlevia Samuel, Manager, Neighborhood and Commercial Development, and Karla Lindquist, Economic Development Officer, to explore the possibilities for inclusive economic development through the Opportunity Zones program. 
City of New Haven deliverable
The city deliverable for the IEDL Spring 2019 Lab is an investment prospectus for four focal New Haven neighborhoods that contain opportunity zone tracts: Fair Haven, Newhallville, Dixwell and Hill, South to be used by the Planning and Economic Development units of New Haven City government and also available for use by community members and city stakeholders working on OZ level projects. As recommended by the Accelerator for America, typically the Neighborhood OZ level prospectuses follow a set of slides about the economic development trends in the City and Region as a whole (content that the City of New Haven Economic Development already developed).  The New Haven OZ level prospectuses developed by SOM students are available for use by all New Haven stakeholders, community members, city officials, developers and outside investors and are meant to aid in the work of creating stakeholder alignment around individual OZ development projects.
The Spring IEDL students also developed a set of recommendations/ examples for how the different models for inclusive economic development examined by the Spring 2019 IEDL (Food Halls, CLTs, Mixed use housing, and Fab Labs) could be incorporated as part of a OZ initiative in the New Haven OZ neighborhoods.  The recommendations are offered as a set of animating ideas to capture the imagination of community and city stakeholders as to what could be possible rather than a specific roadmap to follow.
The Yale SOM IEDL slidedeck on OZs in New Haven report includes 3 sections:
1. Overview of the IEDL project (Slides 2-4)
2. New Haven neighborhood OZ prospectuses  (Slides 5-25) 
3. Recommendations/ Examples of Inclusive Economic Development Models that could be paired with OZ investments (Slides 26-44)
The final report is available here.
Tsai CITY partnership
Together with Ony Obiocha, Accociate Director of the Tsai CITY, we co-designed an Inclusive Economic Development Speaker Series that ran concurrently to the IEDL. The Speaker Series provided a place where the speakers that IEDL brought to campus to inform the work of the Lab could also participate in a community facing dialogue about their work.  Ony and his team invited and hosted an additional set of speakers for that forum, filled the room with representatives from 20 local organizations, 9 different academic units, and public officials and fed us all lunch!  We credit Ony for his work in cultivating a welcoming environment for the exchange of ideas and the fostering of community networks.
Thank you to those city and regional stakeholders from the following organizations who showed up for the conversation: New Haven Legal Assistance Association, All Our Kin, Neighborhood Housing Services of New Haven, Community Foundation for Greater New Haven, CT-Organize Now!, Black Lives Matter New Haven, New Haven Rising, A Tipping Point, Greater New Haven Green Fund, Civic Impact Lab, Fetch.AI, Democratic Socialists of America (DSA), DSA/Hamden Legislative Council, Yale Divinity School, Yale F&ES, Yale College, Yale Law School, Yale School of Medicine, Yale School of Management, Yale School of Architecture, Yale Political Science, Yale Sociology & AfAm, Cheshire Democratic Women's Club, Planned Parenthood, Department of Health, Promoting Enduring Peace, Project Access of New Haven, Capital for Change (C4C), Slow Factory, New Haven Urban Design League.