Podcast Hosts
Spring 2020 CitySCOPE podcast hosts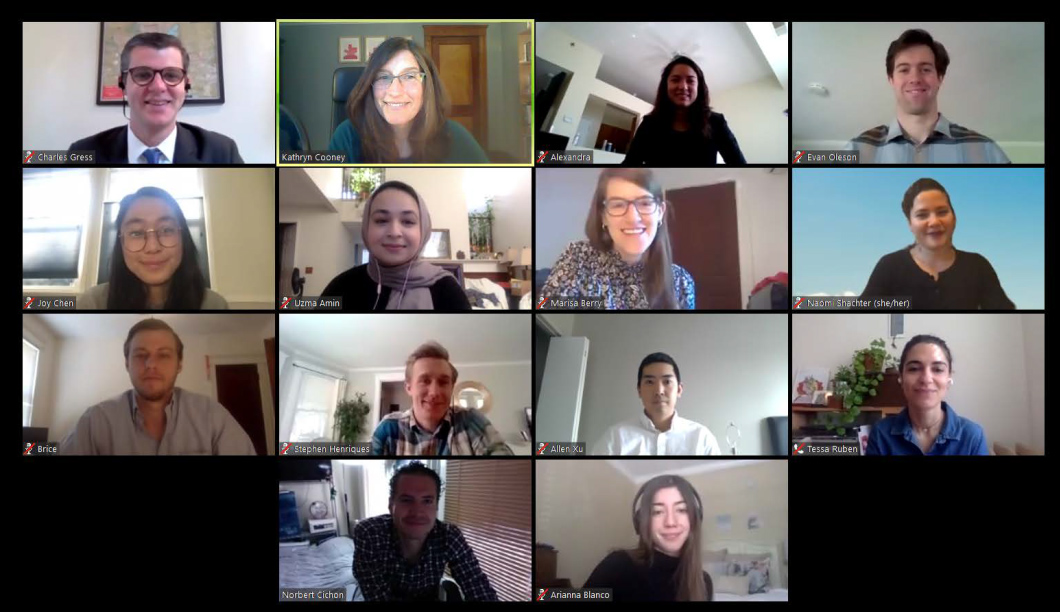 Students of the Spring 2020 IEDL Rethinking Community Engagement: The Role of Narratives in Inclusive Economic Development- Uzma Amin, Marisa Berry, Arianna Blanco, Joy Chen, Norbert Cichon, Brice Eidson, Charles Gress, Stephen Henriques, Evan Oleson, Tessa Ruben, Naomi Shachter, Alexandra Sing, and Allen Xu.  As part of their work at the IEDL, students researched their episode topic areas, conducted interviews in the New Haven region for background, drafted and performed the narrative scripts for the podcast as well as preparing for and participating in the interviews.  The irony of starting a class dedicated to the theme of community engagement during the first wave quarantine of the  Covid-19 pandemic was not lost on us.  This cohort of students brought warmth, ethusiasm, and intellectual interest in this topic as well as an obvious delight in the opportunity to engage with our podcast guests.  One day, I hope to be in the same room with the Spring 2020 IEDL students, but for now I will settle for commending them on taking a challenging class at a difficult time and bringing so much of themselves to meet the moment.
Spring 2019 CitySCOPE podcast hosts
 

Students of the IEDL Opportunity Zones in New Haven Lab: Paul Bashir, Dan Bitner, Nina Croock, Liam Grace-Flood, Sara Harari, Lauren Harper, Song Kim, Camilo Monge, Christian Rodriguez, Phil Ross, and Allie Yee all wrote and performed the narrative scripts for the podcast as well as researching and conducting the interviews.  Their flexibility, hard work and passion (and in at least one case, a serious knack for podcast script writing) for this project is recognized and appreciated!
Senior Lecturer, Yale School of Management

Kate Cooney, PhD, MSW, received her graduate degrees from the UCLA Luskin School of Public Affairs.  She grew up in Washington DC in the 1970s and 1980s.  The stark economic differences between neighborhoods in the D.C. of that era inspired a deep interest and curiousity about cities, inequality, racial injustice and American history as it pertains to current urban landscapes.   She created and conceived of the Inclusive Economic Development Lab course at the Yale School of Management and the CitySCOPE podcast. Please reach out if you have an idea for a future lab topic or for more conversation on Seasons 1 and 2.