James Johnson-Piett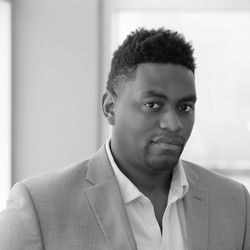 Principal and CEO, Urbane Development
James is an evangelist for a new kind of community development that emphasizes community anchor businesses and institutions as agents of change. As CEO of Urbane Development, an economic development consultancy and real estate developer based in NYC, James is an expert in neighborhood scale development and the revitalization of urban commercial and retail assets. James has worked in 40+ underserved communities with over 1,000 small businesses, representing over 1.1 million square feet of commercial and community facility space, and helped raise over $55 million to help small business and community development initiatives in low-income areas with the goal of promoting community wealth generation. 
Selected projects include: Flatbush Caton Market, an existing 40 vendor indoor Caribbean flea market in Brooklyn that will be repositioned within a new 200K+ SF mixed-use facility. The new facility will include 20K SF of commercial space, 15K SF of community facility (business incubator and product fabrication labs), and over 250 units of affordable housing. James and his team will focus on structuring financing for the market redevelopment, creation of a 2-year pop-up market during construction, and overall market management post-construction.​
Currently, James serves as a board director for Business Alliance for Local Living Economies (BALLE), Community Solutions Inc., and The Merchants Fund, respectively. James was named an Aspen Ideas Festival Scholar in 2019, 40 under 40 Rising Star by Hunter College Food Policy Center in 2017 and one of the 100 Most Influential People in Brooklyn Culture by Brooklyn Magazine in Spring 2016. James is an alumnus of Swarthmore College and MIT's Center for Real Estate, Professional Development Institute.​