Brian E. Argrett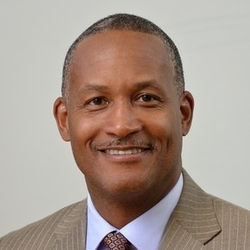 Brian E. Argrett, President & CEO / City First Bank and Broadway Financial Corporation
Brian E. Argrett is currently Vice Chairman of the Board of Directors of Broadway Financial Corporation (NASDAQ:
BYFC), and President and CEO of its banking subsidiary City First Bank National Association, or collectively 
CityFirstBroadway.™
Mr. Argrett joined City First in 2011 bringing extensive expertise in financing companies in underserved communities 
with both debt and equity, as a private equity investor and fund manager. On April 1, 2021 Mr. Argrett successfully 
led the closing of an historic merger of equals by and between City First and Broadway fortifying the legacy of both 
institutions to form the largest Black-led minority depository institution (MDI) in the nation, with over $1B in total 
assets and $1B in total deposits as of June 30, 2021. 
Mr. Argrett also serves as Chairman of City First Enterprises and City First Foundation, part of One City First, a 
family of complimentary companies filling the gaps in the community development finance ecosystem.
Externally, Mr. Argrett serves as a director and Vice Chair on the Board of the Federal Home Loan Bank of Atlanta 
("FHLBATL"); and was recently appointed to serve on the Office of the Comptroller of the Currency's ("OCC") 
Minority Depository Institutions Advisory Committee. 
Additionally, Mr. Argrett also serves as a member of the Steering Committee of the Expanding Black Business 
Credit Initiative ("EBBC"); is a member of the Global Alliance for Banking on Values ("GABV"); served as a past 
Chairman of and continues to serve on the Board of the Community Development Bankers Association ("CDBA"); 
and was a past presidential appointee, under the Obama administration, to the Community Development Advisory 
Board.
Mr. Argrett holds a Juris Doctorate and a Master's in Business Administration (JDMBA) from the University of California, 
Berkley, and a Bachelor of Science degree from the McIntire School of Commerce at the University of Virginia.